A new version of Microsoft Office was once considered a major event, second only to the release of a new version of Windows. However, it no longer has that sense of occasion. Even Microsoft's own announcement of the Office 2019 launch in September was underwhelming.
This is partly due to Microsoft's preference for users to subscribe to Office 365 on an ongoing basis rather than pay a one-time fee for the standalone version. However, it's possible that this is due to the fact that there are now so many wonderful free alternatives to Office – LibreOffice, for example, or Google's free office web tools – that Office is becoming less relevant.
Office 2019 is available in two editions. The Home & Student package costs 120 dollars and includes the latest versions of Word, Excel, and PowerPoint (or a little cheaper if you shop around online). Office Home & Business 2019 costs $250 and includes Word, Excel, PowerPoint, OneNote, and Outlook. There's also a 420 Office Professional 2019 that includes all seven Office applications (including Access and Publisher), but it's aimed at businesses rather than people, so we won't go through that here.
So, is Office 2019 a good investment? Are there any new features that are a must-have? Or would it be more cost-effective to use free office software? Continue reading to find out.
Microsoft Word 2019
For many people, Word is the primary motivation for purchasing Office. It's a top-of-the-line word processor that can be used by both home users and professionals. Unfortunately, the most of Word 2019's new features appear to be geared toward the latter.
What's New Features?
Word 2019 adds support for the SVG scalable vector image format and rotatable 3D models, but the ability to translate between languages is the most significant new feature. Simply pick a part of text and select Review, Translate, then Translate Selection to bring up a Translator pane where you may choose your From and To languages. In Excel and PowerPoint, the word "translator" appears.
A Read Aloud text-to-speech tool is also available, which is useful but painfully simple to activate by accident if you press Ctrl+Alt+Space. A variety of different ways to view your documents, including sepia and black page colors to help with eye strain, as well as various text spacing and column width options, are also on board to help you focus on them when you're reading.
Under the Learning Tools button, you'll find all of these options grouped together (in the View tab). If you have a touch-enabled device, you'll be happy to know that Word 2019 has new tools in the Draw tab that allow you to write, draw, or highlight text with a digital pen. On non-touch PCs, the Draw tab is disabled by default.
What are the alternatives way?
Google Docs is a great place to start if you need translation tools. Simply click Tool, then 'Translate document' on the free online word processor to quickly translate your papers. The accuracy of Google's translations isn't perfect, but neither is Microsoft's. You can also install Microsoft's free Translator plug-in if you're using Office 2013 or later.
In the meantime, you can use the free Reader Add-on for Google Docs to get a similar experience to Word's new Read Aloud feature. Similarly, you can use a free extension called Read Text to add a text-to-speech function to LibreOffice Writer.
Microsoft Excel 2019
Excel has long been the industry standard spreadsheet program, and it comes standard with all Office 2019 versions.
What's New Features?
Excel 2010 includes some of Word's new features (such as the new Draw tab tools and Translator) as well as some of its own, the most notable of which is the ability to publish to Power BI (Microsoft's business analytics service).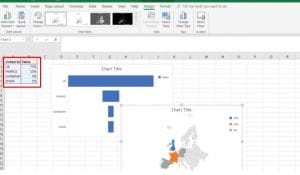 The ability to deselect cells is a new Excel feature that has piqued our interest. How many times have you selected multiple cells in a worksheet only to discover that one or more cells you didn't want were included by mistake? In the past, you'd have had to reselect everything from the beginning. You can now deselect any cells or ranges of cells within an existing selection by holding down the Ctrl key and clicking. It may appear tedious, but it is a significant time saver.
MAXIFS and MINIFS, which provide the biggest and smallest number in a range, respectively, are among the most helpful new functions in Excel 2019. Map charts – for displaying different values across different territories, for example – and funnel charts – which display values at different stages of a process – are also included.
What are the alternatives way?
Although map and funnel charts are new to Excel, they're an example of Microsoft catching up: Google Sheets has had the ability to create charts like these for a while, and both Sheets and LibreOffice's Calc allow you to deselect cells by Ctrl-clicking them.
Microsoft Outlook 2019
Outlook 2019 Outlook is the email, calendar, and contacts application for Microsoft Office. It isn't included with Office Home & Student 2019, so you'll have to purchase Office Home & Business 2019 or subscribe to Office 365 to receive it.
What's New Features?
Many of the new features, like those in Word and Excel, are business-oriented, such as the ability to schedule meetings across multiple time zones in your calendar. Outlook now includes Word's new Read Aloud feature, which lets you listen to your emails as spoken text. There are also a few other useful additions, such as the ability to mark all emails as read when deleting them, which prevents your Deleted folder from reporting dozens of unread messages.
The Focused Inbox is maybe the most intriguing feature of Outlook 2019. Focused Inbox is a concept that Microsoft introduced to its webmail service a few years ago, and it may be familiar to Outlook.com users. Focused Inbox divides your inbox into two views: one for important emails (Focused) and another for less important items like newsletters and mailouts (Other). It's an excellent way to organize your inbox.
Focused Inbox, on the other hand, is restricted to Microsoft email accounts such as Outlook.com/Hotmail and Exchange. It currently does not support any other account types, such as Gmail, POP3, or IMAP.
What are the alternatives way?
Free office suites don't seem to include email clients; for example, LibreOffice's tools don't include one. However, there are a number of excellent free email clients available, including emClient, which has an Outlook-like interface and contains email, calendar, and contacts; it's free to use for up to two email accounts.
Should I upgrade or not with office 2019 ?
There are a number of reasons why you should upgrade from an older version of Office to Office 2019, but one of them is to have access to a slew of exciting new features. As you may have guessed, Office 2019 is a disappointing update. It doesn't make any major changes and only improves a few business features.
If you're upgrading from Office 2016 or even Office 2013, there's not much here to justify the cost. However, even if you're looking to replace an old version of Office, we recommend carefully weighing your options. If you prefer to stay with Microsoft, Office 365 may be a better option, thanks to its built-in online storage and immediate access to new features.
Free options, such as Google's web apps or LibreOffice's classic desktop suite, may, on the other hand, be all you need if you just want a safe, easy-to-use collection of office tools.
Is it safe to use older versions of Office?
In a nutshell, no. Microsoft's software products, including Office, have a set lifecycle of about ten years. For example, the lifecycle of Office 2007 ended in October 2017. Office 2010 will be the next to go, with its lifecycle ending in October 2020.
When a lifecycle expires, Microsoft stops providing security fixes and patches, which are critical for preventing hackers and malware from exploiting vulnerabilities. Microsoft's products are also a popular target for hackers. On CVE Details, you can find a list of known vulnerabilities in unsupported versions of Office.
One option is to move your copy of Office to a computer that is not connected to the internet; this will prevent online exploits but will still leave you vulnerable to USB-borne threats. There's no reason to risk using an out-of-date version of Office these days. If you don't want to pay for a new version, LibreOffice and Google Docs are both excellent alternatives that are compatible with Office files and will receive free updates in the future.