Microsoft Office 2019 Professional plus Activation Guide(Updated)
After complete payment, you will get the License key instantly at your email.
Microsoft offers 3 processes to activate Microsoft office 2019
Pre Activated Microsoft office installation from their website.
Phone call Activation
Inhouse license key activation.
1.Pre Activated Microsoft office installation from their website: 
After complete payment, you will get the License key in your email.
your license key Code xxxxx xxxxx xxxxx xxxxx xxxxx (25 Digit)
If you want to follow this step then you need to make sure that you have uninstalled successfully of Microsoft Office from your computer.
Follow this process step by step:
login or create a new account on the official website: office.com/setup
Enter the product key and select your country and language
Click on continue, download the Microsoft office  2019 setup and open it
Once the setup finishes the installation, open any office program (word,excel…
At this point, it should already be self-activated.
If you Got any Error then Please Follow the Next  Process  for activating your Microsoft office 2019 Pro plus
2. Microsoft office 2019 Professional plus  Phone Call Activation:
At Fast, you need To download Microsoft office professional plus 2019 from their official website.
Here Download link> Microsoft office 2019 Download
After Download and Install Microsoft office professional plus on your computer when they ask you for activating Microsoft office Then please Follow this process.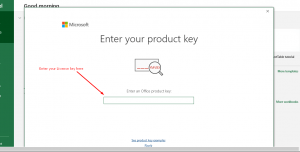 Once Enter a license key they will tell you for activating your office in the internet OR phone call.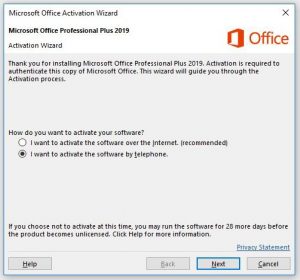 Due to some internal error on their website if you got any error (EX:  key invalid, Already activated Maximum times over the internet) by activating this license key over the internet then Don't worry Microsoft offer Phone call activation for this error.
Select country United state
Call Microsoft but it's may take few times for activating your office and we believe your time is very valuable and important for us. For that reason, we recommend you please follow our instructions that's may take up to 3 minutes for activating the office.
At Fast Visit this website: https://getcid.info/
Then Enter your Installation ID for getting confirmation ID
After entering Installation ID then select office activation
Then Click Get Confirmation ID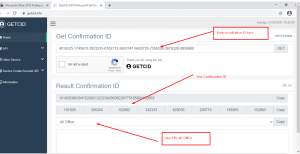 Then Copy this installation id and get your office activated successfully.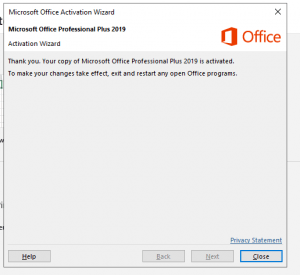 Microsoft Robot ask you how many Computer Do you want to activate then Type 1
At this point, your Microsoft office activated successfully. However, if you got any issue please email us
support@softkeyworld.com ( we typically replay your email 1 working day)