Microsoft 2021 Pro Plus is available for Microsoft Operating System Windows 10 and Windows 11. MS Word, Access, Excel, OneNote, Outlook, PowerPoint, Publisher, Skype for Business, and Teams are all part of Microsoft Professional Plus 2021 package. You can easily install the official version of Microsoft Office 2021 Pro Plus on your Windows device.
Now Microsoft primarily allows two ways, online and phone activation, to install the application package. But sometimes you face problems when you want to install Microsoft Office online. The alternative solution is to install Office 2021 Pro Plus by phone. This article will discuss installing all of Office 2021 Pro Plus by phone.
Microsoft Office 2021 Professional Plus Includes
Word: Microsoft Word is a document-base application that we use to create flexible text documents.
Excel: Microsoft Office Excel is a wide spreadsheet where we can input a huge range of data that will help you with analytics, research, etc.
PowerPoint: PowerPoint is popular for making digital presentations and editing templates. We can easily add text, images, and video to it.
Outlook: Outlook helps us in many ways, like email management, calendar organization, MS Story management, tracking tasks, etc.
Publisher: Publishers primarily use them to create professional-looking publications at a low cost and in a short period of time.
Access: By using access, you can limit the kinds of data that can be input, the quantities that can be entered, and the relationships between the data in one table and the data in other tables. Thanks to this framework, you can ensure that only the right kinds of data are entered.
Microsoft Teams: Microsoft Teams is a productivity tool that you can use to create Word, Excel, PowerPoint, etc. documents with your teams that allow sharing with your office workers easily.
What's New on Microsoft 2022 Pro Plus
Microsoft consistently launches new features for existing and new applications. They upgraded to provide a good user experience for the users. MS Office 2021 Professional Plus came up with a huge upgrade. Let's take a look at some significant improvements:
Co-author documents
Better collaboration with modern comments
Know who's in your document
Look left, look right… XLOOKUP is here!
New and improved Record Slide Show
Ink Replay – Slide Animation for Ink object
Arrange elements on your slides for screen readers
In Outlook, use Instant Search to find emails quickly
Reduce eye strain with Dark Mode
Improve comprehension with Line Focus
We have listed some of the best new features of MS Office 2021 Pro Plus that have an impact on our daily work above. Some new features are added to the Office program, such as virtual refresh, dynamic arrays, the LET function, sheet views, links to slides, and so on. In this circumstance, you have no option but to accept the benefits and necessity of an MS Office application.
So far, we've learned a lot about what Microsoft is, what programs are included, what new features are available, and so on. So if you want to use Microsoft Office, you have made the proper decision about the office program. Let's learn how to activate Microsoft Office on your phone.
Procedures for Downloading and Installing Microsoft Office 2021 Professional Plus
To download Microsoft Office 2021 Professional Plus img file, click officecdn.microsoft.com
After you finish downloading MS Office 2021 Professional Plus, you must open the file and install it. You have to enter the license key during installation.
Sometimes you need help with the MS Office online installation method. Alternatively, you can choose phone activation; it's too easy. You will see the following image on the screen when you don't install Office 2021 Pro Plus online. In this situation, press back and select the alternation activation option by phone.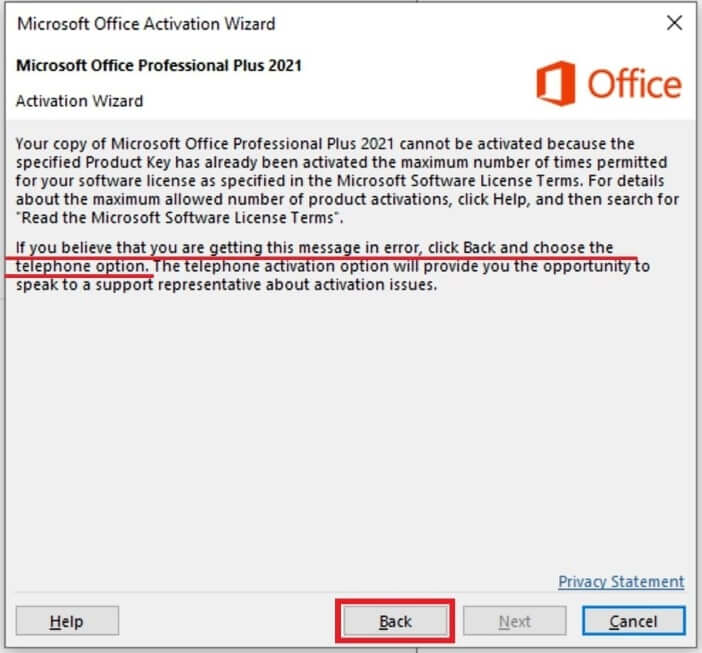 To activate the Office application online, you need a genuine license key. You can get a license key if you don't have one by clicking here. Enter the license key, then click next; after you need to select "I want to activate the software by telephone," hit the next button.
Finally, if you input the original license key and everything is set, you will see the successful information in the next scene.
Minimum System Requirements
Operating System: Windows 10/11
Processor: 1 gigahertz (GHz) or faster
RAM: 2 GB
Storage: 3 GB
Graphics card: DirectX 10 or higher
Display: 1280 x 800 or higher
Other: Internet connection, Microsoft Account
It's very simple to install Microsoft Office 2021 Pro Plus by phone. And this action will appear when you face the problem of online activation. After reading and following the directions, you can activate MS Office 2021 Pro Plus online.
---
Editors Pick for You