Operating Systems are working to keep up with the pace of evolving innovations. Microsoft is not left behind it. Microsoft Windows 11 is one of the iconic Windows series. It is gearing up for another exciting update – Windows 11 23H2. Whether you are a developer, a business person, tech-savvy enthusiast or a casual user, Windows 11 23H2 has something for everyone in its package. With a range of new features and improvements, this update promises to enhance user experience and productivity. Let's dive into some of the notable additions and changes that await users in Windows 11 update 23H2.
When is the Big Release?
Great news for Windows users! The much-awaited Windows 11 23H2 vera is just around the corner! Although Microsoft has not officially disclosed any exact release date, we can make an assumption that it will happen in the next few months. We are anticipating its arrival in the autumn of 2023 possibly during September or October. Since its launching in 2021, Windows 11 has been committed to receiving significant updates every year. With the consistent anniversary pattern, the predicted time matches with the upcoming update.
What is Windows 11 23H2 Offering?
Thanks to Windows 11 Insider Preview Program, we get to have a glimpse of the forthcoming changes and additions of Windows 11 23H2. So, what can you anticipate? Let's check it out-
Windows Copilot: Your AI-Powered Assistant
Imagine an assistant that not only understands your words but also helps you perform tasks hands down. Windows Copilot, the new AI-powered feature, does just that. Some features and benefits Copilot will offer are-
As a sidebar clipped to the right, the Copilot won't mess up with your desktop content and run free beside your applications. You can simply activate it by clicking

Copilot

option in the Taskbar or pressing

Windows+C

shortcut key.

This innovative feature has merged with Bing Chat and ChatGPT plugins. Now you can do almost everything you want on your computing device. 

Features like Snap Assist, copy/paste, Snipping Tool, and personalization are improved here. It will rewrite, summarize and even explain any documents, websites for you.

Windows Copilot is your constant assistant which will follow any simple to complex commands. Whether you ask it to share a picture or file with others, change the settings (i.e.- change to darkmode), or complex task like assisting you in a tour planning, it will do for you!

It's time to say goodbye to Cortana since Copilot will provide the same experience.
Enhanced File Explorer Experience
The appearance and feel of File Explorer will remain the same but what will it get is a significant boost with an enhanced file management system. You can expect-
Revamped design using XAML programming code,

Modern WinUI3 from Windows App SDK,

Renewed visual changes in

Home Page, Gallery View, Quick Access folders, Favourites, Recent,

header interface using Windows UI Library framework.

Improved features, cloud backups, and better performance catering to both casual users and professionals who rely heavily on file organization.
Taskbar Ungrouping
Microsoft has always valued its users' feedback. It is bringing back a much-requested feature in the upcoming release of Windows 23H2. App labels and ungrouping are returning to the Taskbar! In Taskbar ungrouping-
You have the freedom to ungroup apps on the taskbar, customize their placement according to your preferences. 

New update comes with the capability to display labels even for apps that are not currently active. 
RGB Lighting Controls
No more need to juggle multiple third-party apps to set up the RGB configuration for your gadgets! The 2322 update of Windows 11 has introduced a new page in Settings called Dynamic Lighting. With this new feature we can-
Customize the RGB lighting on your PC peripherals. 

From keyboard to mouse, you can create vibrant color schemes and effects that match your mood or style.

Aesthetic flair touches your computing environment.

Personalize lighting settings from one centre location free from bunch of Apps and resource load.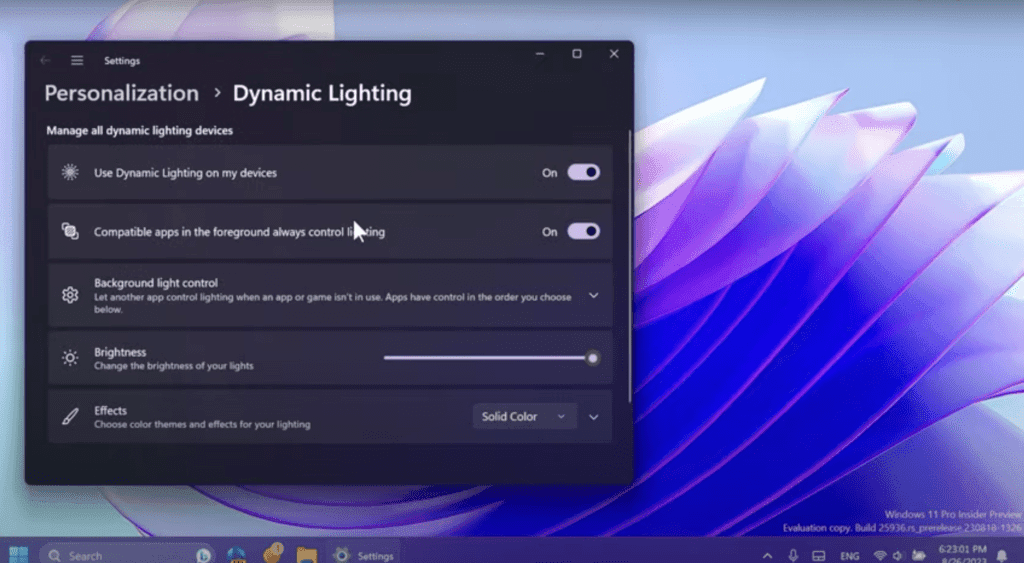 Renowned manufacturers like ASUS, HP, Acer, HyperX, Logitech, Razer, and Twinkly have collaborated with Microsoft in bringing this initiative to life.
Sound Control with New Volume Mixer
Microsoft has renovated the sound control system for Music lovers or audio enthusiasts. It has enhanced the multimedia experience for its user. The revamped volume mixer has helpful features like-
The redesigned interface offers advanced control over individual app volumes.

Easy way to manage audio settings and customize volume according to your preferences. 

Switching between audio devices (headphones, speakers etc.)  becomes a more seamless process.
You can access the new volume mixer just following the simple steps-
Right-click the speaker icon in the taskbar. Select

Open Volume mixer.

Press

Windows+I

to open

Settings

. Go to

System.

In the

System,

select

Sound

option. Then go to the

Volume mixer.

You can also use the keyboard shortcut

Windows+Ctrl+V.
Improved Backup and Data Protection
Windows 11 23H2 is refining the backup and restore experience. You can find the following features in it-
Backing up files to OneDrive becomes more seamless, offering peace of mind regarding your valuable data. Moreover, the restoration process from a backup is expedited, ensuring you can get back to work or play more swiftly.
A new

Windows Backup

app is introduced to enhance the existing

backup and restore

system on the OS.

If settings were previously set up on the

Windows Backup

page, the app labels the setting as

Backed up.

Settings are straightforward and focused on remembering installed apps and their settings.

Once backup settings are set, during new device setup or clean installations, the out-of-the-box (OOBE) experience will inquire whether you want to restore apps, settings, folders, and credentials.

Backup of Microsoft Store apps supported, including their settings.

Non-Microsoft Store apps (Win32 programs) are remembered, but restoration redirects to app website for installer download.

If you agree, the system restores Microsoft Store apps and pins them to the Start menu and Taskbar. However, the apps won't install until clicked on the desktop.
This new Windows Backup app provides a more streamlined and user-friendly experience for backing up and restoring Microsoft Store apps, settings, and other essential data in Windows 11 version 23H2.
New Emoji
Emojis are a language of their own. Windows 11 is introducing a diverse and expressive set of new emojis. These new emoji will have-
Some new animals, a new face, pink, black heart can be found here.

 A broader range of skin tones and more emotive designs.

Redesigned some existing emojis including the smiley face, the thumbs up, and the frowny face.

3D emojis for a realistic look can also be expected here.
Dev Drive and Dev Home for Developers
Catering to the developer community, Windows 11 23H2 offers the Dev Drive feature. It was first appeared on Windows 11 Preview Build 23466. This virtual drive is designed for testing applications to ensure optimal functionality. Accompanied by the Dev Home app, managing your development tools and environment becomes more efficient.
Offers hardware monitoring capabilities.

Provides direct access to GitHub repositories.

Allows installation of over 20 extensions, including Android Studio, Visual Studio, and PyCharm.

Centralizes project creation and modification within a single interface.

Plans to launch an extension store to enhance the variety of supported widgets for Dev Home.

Utilizes Resilient File System (ReFS) instead of New Technology File System (NTFS).

Implements Copy-on-Write (CoW) linking and ReFS features to boost app-building performance.
Updated Windows Ink
One of the most enhanced features coming in Windows 11 23H2 is Windows Ink. You can see some features here-
Microsoft is improving the accuracy of handwriting recognition in Windows Ink, so that your handwriting will be more accurately converted to text.

You have the ability to use Windows Ink in text fields. Now you can write directly in a text field, rather than having to copy and paste your handwriting from a dedicated handwriting panel.

Users can manage this experience by navigating to Settings > Bluetooth and devices > Pen and Windows Ink, located

Shell Handwriting.
Several Archive Format Support
Windows enthusiasts previously relied on third-party apps like WinRAR, 7-Zip for extracting non-.zip archive formats. In the upcoming 23H2 update, Windows will utilize tools from the Libarchive Project for expanded archive format support.
Windows 11 23H2 will allow direct extraction of .gz, .tar, and .rar files from File Explorer.

Libarchive tools are also compatible with formats like .pax, .cpio, and more.

Native support for a broader range of archive formats without relying on third-party applications.

Users can handle multiple formats seamlessly through the updated File Explorer.

Possibilities of offering native support for a wide range of major archive formats.

Users can expect a more comprehensive and integrated archive management experience.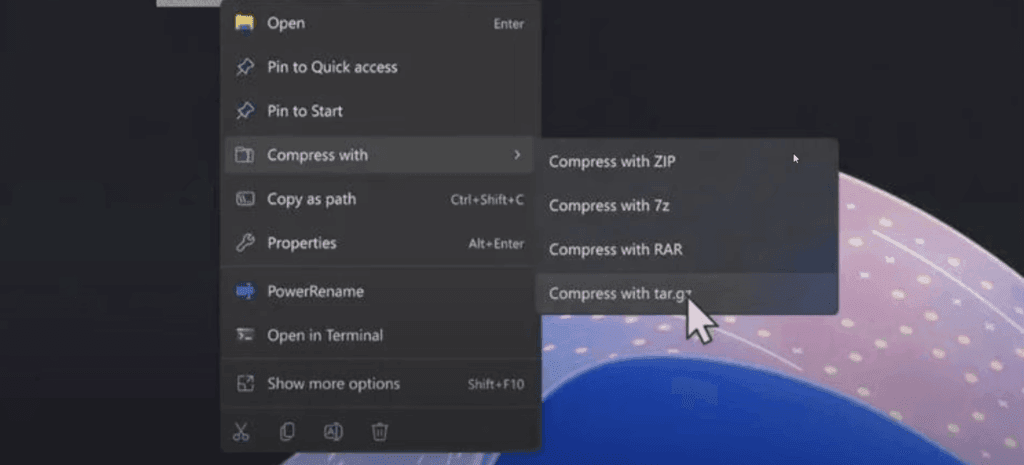 New Sharing Experience:
The new sharing experience in Windows 11 23H2 is designed to make it easier and faster to share files and other content with others.
The share window in Windows 11 has been redesigned to match the modern aesthetic of the operating system.

A new feature enables direct file sharing to OneDrive from the share window.

The updated share interface allows direct file sending through the Outlook App.

Wi-Fi Direct technology is utilized to enhance file transfer speeds and improve the efficiency of nearby sharing.

The interface now prioritizes your devices. It places them at the top of the share window for quicker file sharing between your own devices.

A search box has been integrated into the

Nearby Sharing

interface which facilitates contact discovery across various accounts.

Additionally, the context menu in File Explorer gains a

Share

option alongside the existing share icon at the top.

Collaboration with others and devices on the same network becomes more intuitive.
Some more amazing changes and features you can also in this update are- HDR wallpaper support, Windows Hello for enterprise, new desktop changes for the Spotlight option, updated Start menu, camera, cast, PaintApp support in dark mode, improved Date & Time settings.
System Requirements for Windows 11 23H2
The system requirements for Windows 11 23H2 are the same as the system requirements for Windows 11. In addition to the minimum system requirements, Microsoft also recommends the following for optimal performance-
Component
Minimum Requirements
Recommended

Processor

Minimum 1 Gigahertz (GHz) with multicores on a compatible 64-bit processor or SoC (System on a Chip). 

1.6 gigahertz (GHz) or faster with four or more cores on a compatible 64-bit processor or system on a chip (SoC).

RAM

4 GB (Gigabytes)

8 gigabytes (GB) or greater.

Storage

Minimum 64 GB of available hard-disk space.

128 GB or greater available disk space.

Graphics Card:

DirectX 12 or later with WDDM 2.0 Driver.

DirectX 12 compatible graphics card with WDDM 2.1 driver.

Display

A high-definition display (720p or more) greater than 9" diagonally, 8 bits per color channel.   

High definition (1080p) display with 120 DPI or higher.

System Firmware:

UEFI, Secure Boot Capable.

TPM:

TPM 2.0 (Trusted Platform Module).

Additional Requirements

Internet connection, Microsoft account
If your device does not meet the minimum system requirements for Windows 11 23H2, you may still be able to install it, but you may experience performance problems.
The Upgrade Process Time for Windows 11 23H2
One major query revolves around the update's size, especially considering the initiation of bunch of new features. Fortunately, Microsoft has provided insight – the update will be relatively small in terms of installation time. The credit of it goes to Windows 11 version 23H2 being delivered through an enablement package.
Moreover, all the new features featured in Windows 11 23H2 are already present within 22H2 edition. These additions are seamlessly merged through cumulative updates, distributed on a monthly basis. When the time arrives, Microsoft will deliver a configuration update without any hassle. This Windows 2023 update unlocks all the awaited features in Windows 11. That's why, the process of installing 23H2 Windows 11 will be a cup of tea and quick without causing any compatibility concerns for your apps and devices.
Conclusion
Looks like we've reached the end of our article, but the journey with Windows 11 23H2 is just beginning. The 23H2 update offers new ways to manage your workflow and enhancements that cater to creativity, and personalization. With an anticipated release date in October 2023, users can look forward to a more refined and intuitive computing experience that adapts to their needs. Stay tuned for the official release to enhance your digital interaction! Also, make sure your system requirements is valid for the update, and your Windows 11 copies are unlocked with an authentic license key.